Sem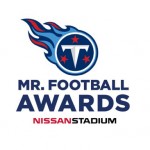 i-finalists announced for Tennessee Titans Mr. Football Awards.
The Tennessee Titans Mr. Football Awards will be presented to the top football players in nine classifications of the Tennessee Secondary School Athletic Association on Monday, November 27, 2017, at Nissan Stadium in Nashville. For the 16th consecutive year, the top kicker in the state will be recognized with a Mr. Football Award, regardless of classification.
Five semifinalists are announced in this release for each classification and the Kicker of the Year category. There are six classifications in Division I and three in Division II. Three finalists for each category will be announced by Mike Keith on the Titans website at www.titansonline.com on Monday, November 13 at 12:00 p.m. CST / 1:00 p.m. EST. The three finalists for each award will be the ones invited to attend the awards luncheon at Nissan Stadium, where the winner of each award will be announced.
A committee of statewide sports writers selected winners based on performance in the 2017 regular season. Academics and character were also taken into consideration. High school head coaches and members of the media nominated the finalists.
DIVISION I, CLASS 1A
Braxton Givens, Gordonsville
Parker McKinney, Coalfield
Brandon Moore, Fayetteville
Kade Pearson, Huntingdon
Garrett Raulston, South Pittsburg
DIVISION I, CLASS 2A
Ethan Cobb, Eagleville
Caleb D. Johnson, MAHS
Jacob Saylors, Marion County
Gavin Stanfield, Waverly Central
Aaron Swafford, Meigs County
DIVISION I, CLASS 3A
Kalyn Grandberry, Raleigh Egypt
Calvin Jackson III, Red Bank
Darius James, Fairview
Woodrow Lowe III, Bolivar Central
Jimmyrious Parker, Pearl Cohn
DIVISION I, CLASS 4A
Cade Ballard, Greeneville
Kamron Hightower-Liggett, Marshall County
Stanton Martin, Anderson County
Michael Jamahl McGhee, Chattanooga Central
Dontae Smith, Spring Hill
DIVISION I, CLASS 5A
Ty Boeck, Soddy-Daisy
Tai Carter, Summit
Jordan Davis, Southwind
Kaemon Dunlap, Beech
Cade Mays, Knoxville Catholic
DIVISION I, CLASS 6A
Jeremy Banks, Cordova
Savion Davis, Riverdale
Dylan Hopkins, Maryville
Carson Shacklett, Brentwood
Jaylin Williams, Germantown
DIVISION II, CLASS A
Da'Joun Hewitt, Davidson Academy
Darius Hylick, Mt. Juliet Christian
Brant Lawless, Nashville Christian
Kemari McGowan, Middle Tennessee Christian
Xavier Myers, Nashville Christian
DIVISION II, CLASS AA
Morgan Ernst, Webb School of Knoxville
Eric Gray, Lausanne
Drew Martin, BGA
Kane Patterson, CPA
Cam Wynn, Notre Dame
DIVISION II, CLASS AAA
Tyler Badie, Briarcrest
Brendon Harris, Baylor
Camron Johnson, Brentwood Academy
Bill Norton, Christian Brothers
Gavin Schoenwald, Brentwood Academy
KICKER OF THE YEAR
Gabe Boring, Bledsoe County
Thomas Burks, Blackman
Charles Campbell, USJ
Noah Holsinger, Trinity Christian
Aaron Sears, Oakland