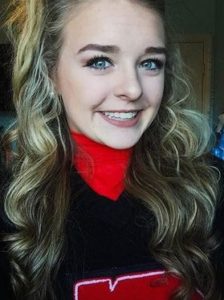 It suppose to be a happy time of the year. It's the 2016 Class 4A semifinals and your team is one win away from the TSSAA State Football Championship, a trip you could be making for the first time since 1999. This is what Central players and fans should have on their mind as they enter Preston-Hopkins Field to face the Tigers of Marshall County, but that won't be the case this year. Their thoughts will most likely be on one of the own not there, Bobcats cheerleader Emma Jane Walker, 16 who was shot to death while she slept in her home by her former boyfriend 18 year old William Riley Gaul who also played football at Central and most recently at Maryville College.
According to reports Gaul is charged with killing her as they had ended their romance in recent weeks, and he refused to accept the breakup. Gaul is charged with first-degree murder. The body of the high school junior was discovered about 6:30 a.m. Monday at 6802 Cardindale Drive in North Knox County. It appeared she had been shot from outside the home, according to authorities. Gaul posted several tweets professing his love for Walker, including a lengthy tribute that appeared online several hours after she was found dead. "Living everyday through Emma Walker. I love you beautiful and I know you're in a better place now," Gaul's Twitter bio reads.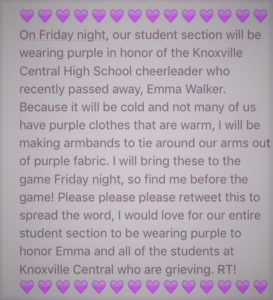 He was taken into custody at the Woodlands Apartments on Cherokee Trail late Tuesday night. Gaul, of Knoxville, is in jail in lieu of $750,000 bond.
Earlier this week as the news traveled to Lewisburg,  students and MCHS cheerleaders wanted to do something to show their support to Central High School, especially the cheerleading squad. So MCHS students took to twitter to pass on the message. This was posted by MCHS softball, basketball and track team member Leah Hollingsworth…