Talking about matchups, Round 3 of the TSSAA High School Football Playoffs had some great ones Friday night. One of the best games of the night saw Cane Ridge score 30 unanswered points on Independence in the 4th quarter before losing the game 49-46. Another surprise reared its ugly head in east Tennessee as Knoxville Fulton faced Knoxville Central. After knocking off Catholic last week the Falcons were facing the Bobcats of Central a team that had already beat them during the regular season. Fulton struck first and led 6-0 at the end of the first quarter, but faultured as a sound Central defense held Fulton to 150 total yards shutting out the Falcons for the remainder of the game. Central went two up on Fulton winning 20-6.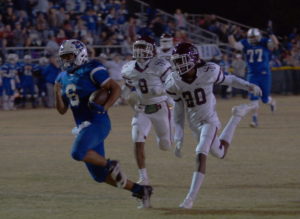 The Bobcats (11-2) will travel to play Marshall County in next week's semifinals. Central last advanced this far during a state runner-up run in 1999.
Marshall County (12-1) defeated Spring Hill 53-13 to once again advance to the Class-4A semifinals for the second straight year. Central and Marshall County will meet for the first time ever next Friday at Preston Hopkins Field in Lewisburg. Junior Kamron Liggett led the Tigers in their win over the Raiders, 22 carries for 206 yards and 5 touchdowns. Liggett had TD runs of 9,1,18,55 and 15 yards. Also had 2 receptions for 26-yards. Senior Tre Crutcher 7 catches for 143 yards and a  13 yard TD from QB Bryce Wallace (15/20 227 yds. 1TD).
For Central Jadarius Sackie rushed for 189 yards and two touchdowns on 39 carries, and Central's defense smothered Fulton en route to a 20-6 victory. Sackie scored on touchdown runs of 29 and 3 yards. The Bobcats rushed for 268 yards as a team. The Bobcat defense held Fulton to 150 yards total offense. In the other 4A contest Pearl Cohn ( Pearl Cohn 31, Springfield 0)  travels to Memphis East (East 20, Ridgeway 12).
In another middle Tennessee matchup Christ Presbyterian Academy took the lead over Goodpasture 21-7 but had the Cougars fight back to tie the game in the fourth quarter, eventually getting it to OT. Lions placekicker JT Gilbert nails a 28-yard field goal to advance CPA (7-6) to the semis with the win.
Here's a look at all of the semifinal action Friday Nov. 25th:
Greenback vs. South Pittsburg and Wayne Co. vs. Dresden Class 1A
Austin-East vs. Marion Co and Waverly vs. Trezevant Class 2A
Alcoa vs. Sequatchie Co. and CPA vs. Liberty Magnet Class 3A
Knoxville Central vs. Marshall Co. and Pearl Cohn vs. Memphis East Class 4A
South Doyle vs. Farragut and Independence vs. Brentwood Class 5A
Maryville vs. Oakland and Cordova vs. Whitehaven Class 6A